I've decided to do some Matched Betting guide videos to help people who are new to matched betting (MB).
This one is prompted by someone who emailed in a few questions and the one I thought I'd deal with in this tutorial is as follows.
The questioner writes:
"So let's say ballpark figures, would putting £250 in a new bank account to cover the qualifying bets and £250 in Betfair to cover the lays, would that cut the mustard? Or is that not enough?
Well £500 is more than enough as it is possible to start MB with just £100. To be honest you could start with just £50 but you must remember that the less money you have in your float means you are just going to have to work that much harder. With a bigger float you can scale up to bigger profits, but you will get there as long as you can re-invest your early profits.
With a smaller float most of your headaches will be caused by stressing over cash flow issues. Constantly having to wait for bets to settle or a bookmaker to pay your winnings back to your bank account is frustrating. With a bigger balance in your Betfair account it allows you to maximise your profits with the free bets you get.
Watch the video here and I'll summarise my final thoughts below.
Summary Matched Betting Guide
You can start with a small bank roll (float) and ideally you should open a separate bank account and having online banking with it is important to move your money around quicker.
If you already have an account you could use that is separate from the one you use for your day to day stuff like paying bills and shopping. It is important to ring fence your MB money and it will make it easier to keep track of your profits.
In the video I suggested having £100 in your bank acc and £400 in Betfair, but having money where you control it is important. So withdraw from bookie accounts as soon as the bets are settled, to re-use that money elsewhere. Don't leave it lying around in bookie accounts, make the money work hard for you to maximise your profits.
Get started with Matched Betting
Sign up for a Free no obligation trial with Oddsmonkey who provide the software I use to find the closely matched bets and calculate the back and lay stakes for me.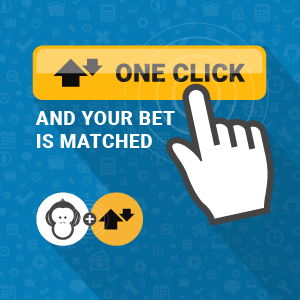 Open a Betfair Account here so you can us the "Exchange" to "Lay" your bets.
More help for beginners
If you haven't already done so you should check out my main Matched Betting page for more help, information and video tutorials.